Posted September 6, 2017
General Equipment portable vacuum system
Ideal for use with its extensive line of surface grinders, planers and other surface preparation solutions, General Equipment Company's new VS220 Portable Vacuum System offers an effective dust control system that balances power, performance and utility.
---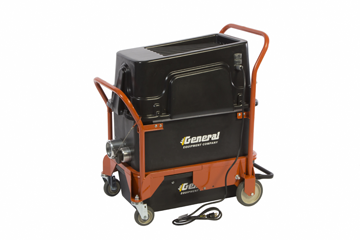 Featuring a 99-percent efficient at 0.5 micron pre-filter and a 99.7-percent efficient at 0.3 micro HEPA secondary filter, the VS220 captures fine dust particles, allowing users to comply with OSHA respirable crystalline silica exposure regulations (OSHA 29 CFR 1910.1153). The unit includes separate 2- and 3-inch diameter dust port connections for either simultaneous or independent operation. This offers greater versatility over single-port designs and better accommodates specific dust control requirements.
Constructed of high-density polyurethane with a heavy-duty welded steel frame, the VS220 is easy to maneuver with 5-inch diameter casters. It's designed to offer a low center of gravity, providing greater stability over traditional vertical, canister style vacuums that are prone to tipping over and being damaged when pulled by the hose.
Emptying the dust collected simply requires engaging the foot-operated hopper release lever. The integral clean filter indicator light makes it obvious when filter cleaning is required. In addition, the manual filter shaker system design is user friendly, more reliable and lasts longer than automatic, pulse-style cleaning options.
The VS220 is powered by two, 115 VAC, 60 Hz single-speed electric motors, which produce a peak of 2.6-horsepower. It produces an air flow volume of 220 CFM (6.3 CMM) and water lift suction of 110 inches (2,794 mm). Overall filter size is 18.3 square feet (1.7 m2). The dust hopper capacity is 12.5 gallons (47.3 L).