General Tools & Instruments PalmScope
The new PalmScope (DCS950) from General Tools & Instruments is more than the world's first full-featured pocket-sized video inspection system.
---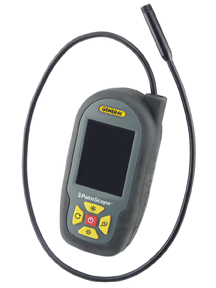 It's also built to survive the harsh environments of HVACR maintenance and plumbing, not to mention any rigorous tasks DIYers might subject it to. The PalmScope's clamshell design allows the camera-tipped probe to be coiled safely and conveniently inside the device. Plus, it can be operated with one hand, leaving the other hand free to use tools. Retailing for less than $150, the PalmScope sets a new affordability standard and outshines competitors in utility, convenience and bang for the buck. It's ideal for busy techs, contractors and DIYers.
The PalmScope has countless HVACR and plumbing applications, such as detecting leaks and cracks in ducts and piping, inspecting for corrosion and deposit buildup, and reading hidden part and serial numbers. This cutting-edge precision specialty instrument offers a cost-effective way to visually inspect inaccessible or hazardous areas and diagnose hidden problems without disassembly or teardown.
With just five control buttons—power on/off, brightness up, brightness down, video zoom and video flip— the PalmScope is incredibly user-friendly. The video zoom button allows the user to zoom up to 4X, increasing the odds of spotting elusive problems. The 180-degree video flip function makes it easier to read upside-down labels and serial numbers by instantly turning them right-side up.