Greenlee recip saw blades
Greenlee announced a complete line of high-quality reciprocating saw blades for the professional trades.
---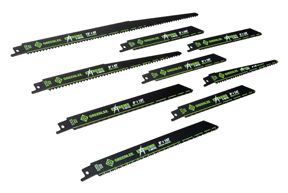 Used by electricians, plumbers, pipefitters and general contractors, Greenlee reciprocating blades are designed to cut a variety of construction materials from nail embedded wood to structural steel.
"All Greenlee reciprocating blades start with our industry-leading bi-metal construction," said Tim Beed, Senior Product Manager for Greenlee. "Our high-performance carbon-alloy blade frame provides improved strength and durability, while cobalt tool-steel makes up the aggressive cutting-teeth. It's this combination of superior materials and advanced blade design that gives our customers the performance they need on the job."
The Greenlee reciprocating blade lineup consists of standard-duty Bi-Metal blades, Specialty blades, EXTREME blades for structural steel, and EXTREME Ti-METAL titanium-coated blades.
Greenlee EXTREME Ti-METAL blades combine the strength and durability of Bi-Metal blades with titanium-coated cutting teeth. Titanium coating helps reduce friction and heat build-up, allowing the blade to run cooler and resist chip-weld. This produces the best wear-resistance and the longest blade life in the entire Greenlee reciprocating blade lineup.
Greenlee EXTREME blades feature a wider, thicker blade frame for increased strength and durability. They resist bending and cut straighter than standard blades in structural steel applications such as angle iron, I-beam, structural tubing and C-channel.
Greenlee SPECIALTY blades are purpose-built for cutting a variety of construction materials, such as stainless steel, cement board, masonry block, and cast-iron pipe.