Posted December 17, 2019
Greenlee Gator insulated cutters and crimpers
Emerson announced the release of the new Greenlee Gator Insulated Series of cutters and crimpers.
---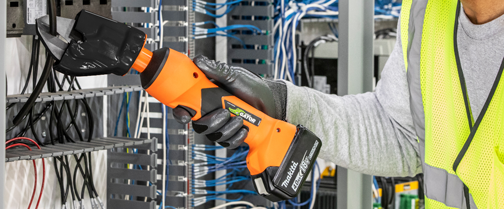 They are designed to help protect a professional from up to 1,000 volts, helping to save the lives of professional utility and electrical tradesmen while on the job. Its crimpers are UL and cUL classified with seven major brands of lugs and splices. The innovative battery powered Gator Insulated Series of cutting and crimping tools can help reduce the operator's field of movement and exertion, which can improve precision and safety in these hazardous and confined work conditions.
"The U.S. Bureau of Labor reports that 96 workers were fatally injured by an electrical shock greater than 220 volts two-years ago1," said Ryan Berg, product manager for Greenlee, Emerson. "We are passionate about producing tools that can help workers come home safely – which is why each Gator Insulated tool undergoes a dielectric test as part of our production process to assure this 1000-volt protection."
A patent-pending tri-insulation barrier impedes voltage from discharging between the head and the body of the tool. The Insulated Gator Series features a brush guarded head aimed at helping to avoid accidental contact with conductors, and a 360-degree rotating head for improved agility in confined work spaces. The new Gator Insulated tools feature a double-tap trigger option which can help prevent the unintentional operation of the tool, an enclosed impact-resistant housing to protect the tool from debris and an over-molded grip for easy, comfortable handling and control. They are powered by an 18-volt Lithium-ion 4.0Ah Makita® battery platform which enables users to accomplish more cuts and crimps per charge.
New Gator Insulated crimpers also feature Intelli-CRIMP® technology. This innovative feature allows the professional to monitor each cycle of use to ensure crimping force is achieved. If the complete crimping force is not reached, the tool will notify the professional with an audible alarm and visual alert, and the OLED screen will show a description of the tool problem.