Guardair Flexible Gun Vac
Guardair Corporation introduced the pneumatic Flexible Gun Vac with new 18" tapered flexible metal extension.
---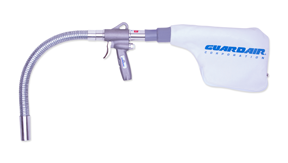 The tapered vacuum inlet accepts all standard 1 ¼" vacuum accessories expanding the attachment options for use with the Gun Vac. The Gun Vac, designed for industrial cleaning applications, produces twice the power of standard shop vacuums.
The flexible metal extension makes cleaning easy in hard-to-reach areas by capturing debris versus blowing it around. Powered by compressed air, the lightweight Flexible Gun Vac has no electric motor to burn out. The high filtration collection bag makes it ideal for cleaning metal chips, dirt, dust, and finer materials such as powders and talc. The bag attaches to the rear of the vacuum and features a zipper making it easy to empty. It also has an internal stiffener that prevents sagging and sharp objects from penetrating the exterior of the bag.
Additional features include:
Lightweight all-metal construction
18" X 1 5/16" O.D. tapered flexible metal extension
Engineered contoured comfort grip
Eyelet for convenient hanging/storage
High filtration collection bag with zipper
Dual ¼" FNPT air inlets (bottom and rear) - allow for ease of installation and operation
Meets OSHA Standards
Made in USA
Part number: 1548