Posted June 25, 2019
Guardair QuickSelect Tool Rack
Guardair Corporation has developed the new QuickSelect Tool Rack to organize frequently-used shop tools and keep them within easy reach.
---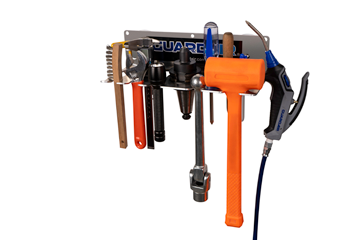 Made from heavy-duty aluminum, the QuickSelect features an array of slots and holes sized to accommodate the most popular tools including Allen wrenches, dead blow hammers, screwdrivers, and safety air guns. Also featured is a 1-3/4-inch hole lined with a plastic bushing for storing sensitive instruments such as tool holders or gauges, making the QuickSelect the perfect accessory for CNC machining centers.
Featuring a slim profile that minimizes intrusion into active workspaces, the QuickSelect is available in two versions—with eight holes for custom mounting, or with dual, high-strength magnets for quick mounting on steel surfaces.
"Disorganized and cluttered workspaces lead to wasted time," said Heather Bean, marketing and eCommerce director at Guardair. "Our new QuickSelect Tool Rack offers an innovative solution to organizing and accessing your most frequently used shop tools."
Key Features:
Durable, 1/8-inch aluminum construction
15 holes and slots sized for the most popular tools
1 ¾-inch diameter hole with removable plastic bushing
Multiple mounting options
Magnets provide 190 lbs. axial holding force
Measures 12"L x 5"W x 3"H
Proudly made in the U.S.A.