Posted July 12, 2022
Guardair Contain-It Kits
Guardair Corporation announced the latest innovation to its flagship Guardair brand – the Contain-It Kits.
---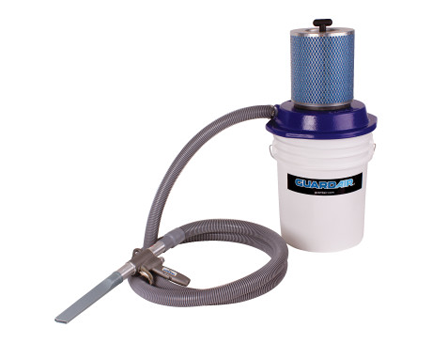 Powered by standard shop compressed air, Guardair GunVacs feature convenient point-of-use vacuum capability and are equipped with a low-capacity filter bag. Contain-It Kits attach to any GunVac or Flexible GunVac and provide 5-gallons of storage capacity for vacuumed up debris, such as metal chips, shavings, sand, powders or sawdust. With Contain-It Kits, users can vacuum longer and minimize downtime spent emptying debris.
Featuring a 5-gallon plastic container with weighted lid for safe operation and easy emptying, Contain-It Kits include a standard cartridge filter and 1-1/4" ID x 10' flexible vacuum hose with hose cuff for secure attachment. An optional cloth filter bag for additional filter protection is also available.
"When developing the Contain-It Kits, we really listened to our end-users," explained Nick Gorra, Guardair Product Marketing Manager. "Now a Contain-It Kit with plenty of additional storage capacity for vacuumed debris can be stationed with each GunVac at machine tools or workstations for on-the-spot cleanup."
Offered as a stand-alone accessory (P/N 1520), Contain-It Kits are also sold bundled with the GunVac (P/N 1522) or the Flexible GunVac (P/N 1524).