Guardair Syphon Spray Gun
Guardair Corporation expanded its Syphon Spray Gun product line with an all new "Flame" Pattern Syphon Spray Gun, model number 79SG012F.
---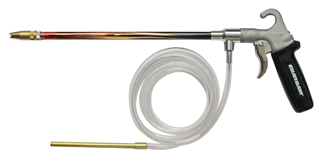 The new gun, featuring an original flame design on its 12" aluminum extension, uses compressed air to produce a high vacuum suction to deliver a spray up to 12+ gallons of liquid an hour. Ideal applications to use the 79SG012F include, but are not limited to spraying of solvents, spray oils, cleaners, disinfectants, insecticides, mold release agents, coatings, degreasers and more.
The syphon spray gun features include:
A 12" aluminum extension with flame design
An adjustable nozzle tip to control volume and spray pattern
Separate liquid and air controls to provide user with optimum flexibility
Slip on grip provides thermal protection and extra comfort
Six foot syphon hose with sinker
Lightweight and fully portable
Durable cast aluminum body
OSHA Compliant
Made in USA
1/4" FNPT inlet