H.K. Porter Powerlink Bolt Cutters
H.K. Porter announced the introduction of its new versatile Powerlink Bolt Cutters.
---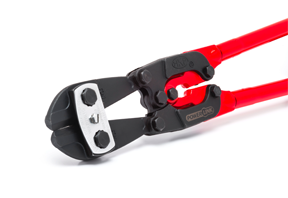 Developed using advanced computer-aided design, the new bolt cutters feature a double compound action system that requires 30 percent less effort than traditional bolt cutters. High-performance steel handles provide extra strength and power for each cut, while specially engineered center cut blades deliver industry leading blade durability.
"H.K. Porter raises the bar with these new Powerlink Bolt Cutters," said Jason Wirth, product manager for H.K. Porter. "End users can rely on this tool to make powerful cuts with less effort than before, allowing them to complete tough jobs quickly and efficiently."
The precision-ground, induction-hardened cutting blades make the Powerlink Bolt Cutters easy to use on various materials, such as bolts and screws, chain, strapping steel, tire chains, wrought iron, and more.
The dual Powerlinks are forged for superior strength and reliability, making this the ideal tool for production facilities, maintenance and repair operations, utilities, oil and gas operations, and construction sites. Powerlink Bolt Cutters are available in the following handle lengths:
SKU 0090MCD: 18-inch (cuts up to 9/32" HRC 48 materials)
SKU 0190MCD: 24-inch (cuts up to 5/16" HRC 48 materials)