H. L. Flake automotive locksmithing catalog
H. L. Flake announced its newly printed, full-color specialty catalog of automotive locksmithing and EEPROM products.
---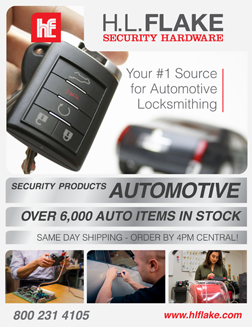 The 2016-17 catalog is over 400 pages, printed exclusively for professional automotive locksmiths. The catalog includes pricing. It will debut at the upcoming Just Cars show in Orlando, Fla., April 27-29. The catalog will be mailed to customers at the end of April.
The H. L. Flake website showcases the full automotive product line, ready for online ordering, and the product is available for same-day shipping.
Products include: A-1, A-Tek, Determinator, EZ Reader, Gator Tools, Hata, HPC, Ilco, Intelligent Key Solutions, Jet, JMA, Keyline USA, Lishi, Pro-Lok, Steck, Slick Locks, Strattec and others. Advanced programming tools (EEPROM) are featured in the catalog, along with a focus on key machines and transponder keys.
The automotive catalog houses an industry-leading offering of advanced EEPROM programming tools; H. L. Flake wants to continue to lead in this category, appealing to advanced locksmiths who focus their work on higher end cars and newer USA-made and foreign car brands.
"EEPROM is where the industry is heading. Europe is years ahead of the United States. Demand is growing in the U.S. and H. L. Flake will have those tools, the education and expertise for those who seek it," said Tim Waggoner, H. L. Flake's lead automotive specialist and manager.
H. L. Flake's EEPROM classes at its annual tradeshow in March 2016 were sold out within days of announcing them.
After April 27, 2016, registered H.L. Flake website users can view and download the full automotive catalog PDF to any desktop computer, laptop or mobile device.
The company also announced that Krista Lamb has joined as director of purchasing and merchandising. Lamb has extensive category management experience from her experience at ORS Nasco, and experience in marketing and product management for consumer goods companies as well. She joined the company in February.