Posted February 1, 2017
Hamilton Caster high heat casters and wheels
Hamilton Caster introduced new casters and wheels engineered to withstand the rigors of high temperatures.
---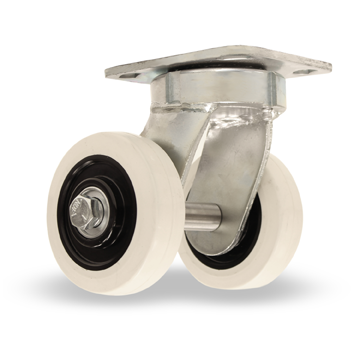 These new products are designed for use in food manufacturing, autoclaves, product finish systems and other extreme temp environments. Temperature capabilities begin at 250°F and top out at 750°F; wheel diameters span 3 inches to 12 inches; load capacities per caster range from 260 pounds up to a massive 9000 pounds.
This product release is one of Hamilton's most extensive, encompassing four new wheel series and five new caster series totaling nearly 300 new standard models. According to Mark Lippert, vice president of marketing, "we have provided high heat casters and wheels as special orders for many years and the volume finally reached a level that merited the creation of the broad line."
Wheel offerings include the new Ultratherm with a high performance elastic rubber tread. Rated @ 530 degrees, Ultratherm is the highest temperature rated wheel on the market today with a soft (75A) resilient tread for quiet rolling that won't mark floors. Hamilton dual-mounts this new Ultratherm wheel in a high temp swivel or rigid caster. With four mounted to a cart, it's possible to move a 2,000-pound load in temperatures up to 570 degrees without creating noise or damaging floors. Other non-metal high temp wheels include the new Thermolast, a 30% glass-fiber-reinforced nylon 6/6, and Duratherm, a durable composite material that outlasts high heat phenolic and is designed for oven racks.
For casters, Hamilton introduces the new Inferno series offered in light, medium, and heavy duty plus a new high heat stainless steel line. Other highlights include the MagmaMax Extra Heavy Duty Series rated up to 750°F with a maximum load capacity of 9000 lbs. per caster. The Inferno Heavy Duty and the MagmaMax series boast extra thick forgings and proven kingpinless swivel technology for superior durability over the life of the casters.