Hamilton Caster Spinfinity
Hamilton Caster introduced Spinfinity - a new line of heavy duty maintenance-free casters.
---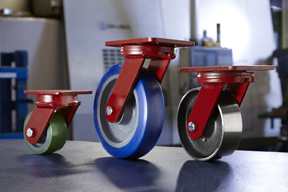 Incorporated into the swivel kingpinless construction is special CNC-machining to host a large internal seal. The seal is made from Nitrile butadiene rubber (NBR) and is completely enclosed inside the swivel assembly. With no outside exposure, the swivel assembly is well suited to keep grease in and contaminants out.
The Spinfinity casters boast extra thick forgings and proven kingpinless swivel technology for superior durability over the life of the casters. The top plate and inner raceway are one forged steel piece, not a weldment, providing unmatched strength for shock conditions. The raceways are CNC-machined and then hardened to a uniform depth. These processes assure a smoothly swiveling caster under heavy loads. All of this adds up to Spinfinity® carrying the industry's best three-year product warranty.
"The grease fittings are gone!" explained Jeff Spektor, the lead designer of Spinfinity. "With the permanent seals in the swivel raceway and the wheel hub, grease fittings are no longer required."
The benefits of the Spinfinity casters are also in direct alignment with Hamilton's own lean principles employed throughout their manufacturing operations. "With Spinfinity casters now available, time spent maintaining casters is actually waste", remarked Dave Lippert, Hamilton's President. "Maintenance can now spend time on other equipment to support manufacturing uptime and other value-add activities. Any equipment that is reliable and maintenance-free supports lean principles." And there is no more bending and twisting to lubricate hard to reach casters and wheels.
The Spinfinity lineup is offered in three popular heavy duty series:
The ZFWH Series features 2" wide wheels, the industry's most popular 4"x5" mounting plate, and is rated up to 2500 lbs. per caster.
The ZFHS Series also features 2" wide wheels but with a larger 4-1/2" x 6-1/4" mounting plate and carries up to 3000 lbs. per caster making this the highest rated maintenance-free kingpinless caster in its class.
The ZFFM Series rounds out the Spinfinity lineup and offers 3" wide wheels with the same 4-1/2" x 6-1/4" mounting plate and is rated up to 3200 lbs. per caster.