Posted June 14, 2022
UltraGlide wheels by Hamilton
Hamilton introduced its newest UltraGlide wheel series, designed to reduce the amount of energy needed to move loads in manual or powered applications.
---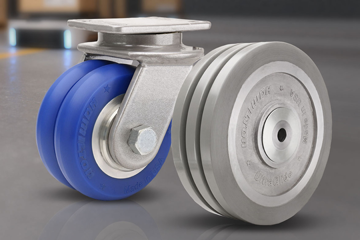 Designed for ergonomic and AGV applications, the new UltraGlide still features independent swivel surfaces that eliminate scrubbing, making it much easier to turn. It still has split outer raceways to minimize friction that provides low startup and maintain forces. But that 's where the similarity ends and the magic continues.
Engineers upgraded the precision ball bearings in both size and quality in the new UltraGlide to provide more than double the bearing life. Hamilton engineers also designed the die cast aluminum center with a new concave face that concentrates the compression of the urethane toward the centerline of the tread. This design change simulates the cushioning benefits of a thicker, softer tread, but provides the same durability and long life as other more conventional heavy duty wheels.
The UltraGlide also features a new modular design whereby the 1" wide wheels are no longer press fit together but now assembled separately like a true multi-wheel arrangement. This enhancement allows for many more product configurations compared to its predecessor. For example, the new UltraGlide supports a 3" wide assembly in a small 3-1/2" diameter and can expand to a 6" wide assembly in a 12" diameter.