Posted March 31, 2017
Hitachi 4 1/2" AC Brushless Variable Speed Angle Grinder
Hitachi Power Tools announced a new addition to its growing commercial product line with the launch of a 4-1/2" AC Brushless Variable Speed Angle Grinder- model G12VE.
---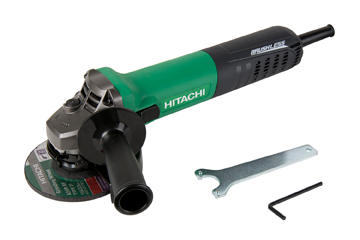 AC Brushless products permit the use of extra-long extension cords with reduced power loss, eliminate maintenance of armatures or carbon brushes, and deliver superior performance when powered by a generator due to internal inverter circuits for ultimate jobsite convenience. The AC Brushless motor results in the ultra-slim grip circumference of this grinder; reducing fatigue and improving control during continuous use applications.
Hitachi's AC Brushless motor is more efficient; leading to longer run time, increased power and extended durability with essentially no maintenance. Eliminating the need for carbon brushes means freedom from issues with the motor armature burning out, and experiencing layer shorts or commutator wear in severe environments.
Also, brush wear and resulting armature damage from lack of maintenance is the most common service issue. This is completely eliminated by the Brushless motor resulting in more uninterrupted run times. Additionally, Hitachi AC Brushless tools integrate electronic controllers that compensate for reduced power loss due to voltage drop.
The G12VE AC Brushless Grinder is also designed for compatibility with a generator thanks to Hitachi's compact and highly efficient inverter circuit. This circuit cleans up and modulates the electricity before it is used in the motor providing steady, stable operation and greatly reducing the risk of damage to the internal circuits. This is ideal for mobile contractors without a permanent power source on the jobsite.
The G12VE offers a 12 Amp motor with 1,300 watts of input power. The variable speed dial is adjustable between 2,800- 10,000 RPMs (no-load speed) allowing the user to determine the best speed for the application. A soft-start function reduces the load felt by the user at start-up. Trigger lock-on is available for convenience and comfort during continuous use applications.
It accepts 4-1/2" wheel accessories to tackle a multitude of applications, and an easy-to-manipulate spindle lock located at the front of the grinder makes it simple to change out the accessories as needed. The included side handle can be moved to either side of the grinder for added control and maneuverability.
Weighing just 4.2 lbs, the G12VE is lightweight for easy operation. This grinder comes with electric overload protection, kick-back reduction and zero voltage restart protection. Electronic overload is a feature that stops the motor when too much pressure is applied. The grinder automatically shuts off to protect the motor from overload, and the gearbox from damage. The tool must be switched to the "off" position, and then turned back "on" to resume work.