Posted April 18, 2018
Hitachi RIPMAX Pro Circular Saw
Hitachi Power Tools (Hitachi Koki USA Ltd.) announced its ultra-fast 7-1/4" RIPMAX Circular Saw, model C7UR.
---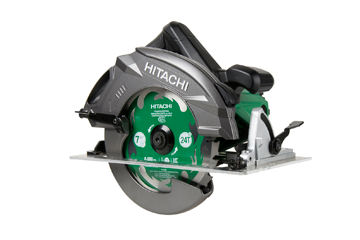 Designed for speed and power, the C7UR cuts up to 40% faster than competitive models with its impressive 6,800 RPMs. It features a powerful 15-Amp motor to quickly and powerfully rip through OSB, 2x4's, LVL, plywood and other typical framing materials or fiber cement boards when equipped with a fiber cement blade. Equipped with a dust blower feature to clear the cutting path and improved ergonomics for easier handling and comfort, the RIPMAX is made to impress on the jobsite.
Also available as an optional accessory is a Dust Collector Set (Part # 372757) that allows the saw to connect to a vacuum system for OSHA silica compliancy when cutting fiber cement board and/or for a cleaner work environment in general.
Its depth and bevel levers, made of steel for durability, are well placed and move smoothly during adjustments. The bevel capacity on this circular saw ranges from 0-55 degrees with positive stops at 0°, 45° and 55°. The extra cut capacity to 55° is ideal for stick framing and roof framing. The cut capacity at 90° is 2-3/8" and 1-27/32" at 45°.
The heavy-duty stamped aluminum base offers "ribbing" which has never been done before, and adds significant durability. Couple that with easy to read front and side scales for a base that delivers accurate measurements and is built to last.
The handle is now closer to the blade for better balance and ergonomics. The grip circumference was reduced to create an easy to grasp slim handle that end users want. The highly durable trigger was widened for comfort and longer life. Another unique feature is the cord hook that allows the cord to be repositioned securely to the side and out of the way for cutting convenience. The hex bar wrench is stored on the tool so it's readily available for quick blade replacements. Easily accessible carbon brushes allow for quick and easy brush changes for user friendly maintenance.