Hitachi AC Brushless SDS Max Rotary Hammers
Hitachi Power Tools (Hitachi Koki USA, Ltd.) unveiled a new line of AC Brushless SDS Max Rotary Hammers.
---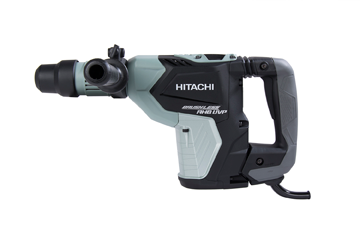 They feature Hitachi's Aluminum Housing Body (AHB) construction that delivers impressive internal and external durability, and select hammers in the line also incorporating User Vibration Protection (UVP) technology to minimize vibration transfer to the user.
This new line from Hitachi will lead the commercial industry in North America by delivering products that not only last longer due to reformative construction of the tool body and motor, but also can reduce the risk of developing a vibration-related injury due to prolonged exposure.
Models in the line include:
1-9/16" SDS Max AC Brushless Rotary Hammer with AHB & UVP (DH40MEY)
8.1 ft-lbs of Impact Energy
1150 Watts Input
500 RPM Full-Load Speed
2,850 BPM Max Full-Load Impact Rate
Vibration Level of 8.0 m/s2
16.5 lbs
1-3/4" SDS Max AC Brushless Rotary Hammer with AHB (DH45ME)
• 9.9 ft-lbs of Impact Energy
• 1,500 Watts Input
• 270 RPM Full-Load Speed
• 2,500 BPM Max Full-Load Impact Rate
• Vibration Level of 13.5 m/s2
• 19.8 lbs
1-3/4" SDS Max AC Brushless Rotary Hammer with AHB & UVP (DH45MEY)
• 9.9 ft-lbs of Impact Energy
• 1,500 Watts Input
• 270 RPM Full-Load Speed
• 2,500 BPM Max Full-Load Impact Rate
• Vibration Level of 8.8 m/s2
• 20.9 lbs
2-1/16" SDS Max AC Brushless Rotary Hammer with AHB (DH52ME)
• 16.2 ft-lbs of Impact Energy
• 1,500 Watts Input
• 260 RPM Full-Load Speed
• 2,200 BPM Max Full-Load Impact Rate
• Vibration Level of 14.0 m/s2
• 24.2 lbs
2-1/16" SDS Max AC Brushless Rotary Hammer with AHB & UVP (DH52MEY)
• 16.2 ft-lbs of Impact Energy
• 1,500 Watts Input
• 260 RPM Full-Load Speed
• 2,200 BPM Max Full-Load Impact Rate
• Vibration Level of 9.8 m/s2
• 25.3 lbs