Posted June 30, 2017
Hitachi 18V Cordless Brushess 3 1/4-inch band saw
Hitachi Power Tools announced its new 18V Brushless 3-1/4" Band Saw, model CB18DBLP4 (bare tool).
---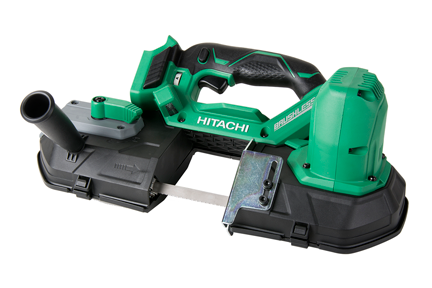 This tool is designed for fast, accurate and smooth cuts through materials such as conduit, steel pipes, power cables, aluminum window frames and various plastics. It is ideal for electrical, plumbing, mechanical and commercial work applications.
This tool is sold as a tool-body only (no battery included), and is compatible with any Hitachi 18V slide-type Lithium Ion battery or charger.
This portable band saw features a variable speed dial with auto-mode function that can automatically adjust the blade speed depending on the application for maximum efficiency and performance. The tool body is covered by Hitachi's Lifetime Lithium Ion Tool warranty.
The CB18DBLP4 features a Brushless motor that improves run time, increases durability and prolongs the lifetime of the tool. It achieves a variable speed from 260 SFPM to 640 SFPM. An auto mode function included in the variable speed dial automatically adjusts the blade speed from 395 SFPM to 640 SFPM to suit the material being cut, resulting in noise reduction and less battery consumption.
It is capable of a max cut capacity of 3-1/4" in round pipe and 3-1/8" x 3-1/8" in square pipe.
This Portable Band Saw is packed with features like soft start during start-up and constant speed control to maintain the speed under load ensuring maximum power is delivered to the application. It is equipped with over-load and over-heat protection feature, which stops the motor before it becomes damaged - extending the life of the tool. A convenient tool-less blade change system reduces user downtime and makes changing out a blade quick and simple.
Impressively lightweight at just 6.45 lbs. (without a battery),the CB18DBLP4 Cordless Band Saw is well suited for overhead applications, for use up on a ladder, or in locations where the user doesn't want a heavy tool to manipulate.
When working in dark or dimly lit areas, the convenient bright LED light comes in handy to see cut marks. The user can monitor battery power status with the on-tool battery charge indicator, which helps reduce downtime. A removable side handle is included to allow for OSHA compliant two-handed use of the band saw. It also comes with a blade (dimensions 35-1/8" x 1/2" x 0.020") and a 4mm hex bar wrench that can be used to adjust the guide plate as needed. This tool is sold without batteries or charger, but is compatible with all Hitachi 18V slide-type Lithium Ion batteries.
The CB18DBLP4 Brushless tool body is covered by Hitachi's Lifetime Lithium Ion Tool Warranty. Hitachi Lithium Ion batteries (sold separately) are covered by Hitachi's Two-Year Lithium Ion Battery warranty and battery chargers (sold separately) are covered by Hitachi's One-Year Charger warranty.