Posted November 3, 2016
Hitachi Cordless Brushless Finish Nailers
Hitachi Power Tools announced the newest additions to its Finish Nailer lineup with a new series of battery powered cordless brushless models.
---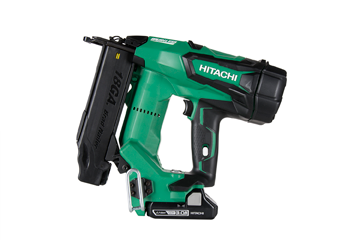 The lineup includes the NT1850DE 18-Gauge 2" Cordless Brad Nailer, the NT1865DM 16-Gauge 2-1/2" Cordless Straight Finish Nailer, and the NT1865DMA 15-Gauge 2-1/2" Cordless Angled Finish Nailer.
This series combines Hitachi's reputation as the Pro Preferred Brand of Pneumatic Nailers with its unique Lifetime Tool Warranty on Cordless products to deliver the quality and performance expected from Hitachi. Get more done with less and experience total fastening freedom from Hitachi by losing the hose, the compressor and gas cartridges.
This series is powered by Hitachi's New upgraded Compact 3.0Ah Lithium Ion battery, model BSL1830C (339782) that delivers all the power needed in about half the weight.
This new battery has the same capacity as a conventional 3.0Ah Lithium Ion battery, while the height is shortened by 3⁄4 of an inch and the weight is 0.6 lbs. less (compared to Hitachi battery model BSL1830) making the work experience lighter, more comfortable and more convenient.
The batteries are also equipped with Hitachi's Multiplex Protection Circuit to prevent over-load, over-charge and over-discharge that further extends the lifetime of the battery. They are fully compatible with all Hitachi 18V Lithium Ion slide type tools for even more flexibility across Hitachi's cordless line.
Each Cordless Finish Nailer comes with a Compact 3.0Ah Lithium Ion battery (while most competitive options only come with 1.5Ah, 2.0Ah or 2.4Ah batteries to date).
All cordless nailers in this series feature Hitachi Brushless motors for longer run time, less maintenance and increased durability. The driving system used is similar to Hitachi's pneumatic line featuring a unique air spring drive system that uses compressed air to drive each nail.