Posted July 25, 2017
Hoffman Group tooling catalog
The Hoffmann Group recently announced the release date of the tooling company's 2017 - 2018 catalog.
---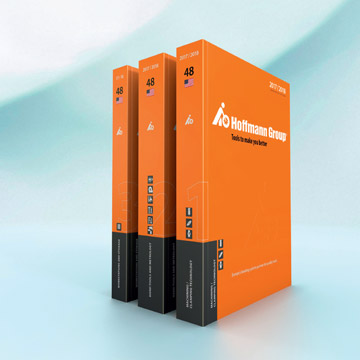 This new catalog contains over 75,000 items from the fields of machining, hand tools and measurement tool, as well as workstations and storage solutions. Effective, August 1, the new catalog will be available online in the Hoffmann Group USA e-shop at www.hoffmann-group.com.
"Our customers are having to choose from an increasingly complex range of products – which makes their decision more difficult," said Martin Reichenecker, head of sales and marketing at Hoffmann Group. "That's why we make a pre-selection for our customers and offer excellent advice on products that require further explanation – in all areas."
Of the 12,500 new additions to the catalog, 4,500 items are from the GARANT premium brand. Among them are the GARANT Master range, new turning grades, the GARANT Tool24 PickOne individual output system and numerous hand tools and measurement tools.
The hand and measurement tools feature measuring equipment from the FLUKE brand for the first time. These products are regarded as particularly reliable and robust by professional users in the fields of electrical testing and thermal imaging and are highly sought after.
"Our delivery capacity and adherence to delivery dates makes us a reliable, high-performing system partner capable of providing comprehensive, high-quality solutions from a single source," said Reichenecker.