Hougen-Ogura model hole puncher
The new Hougen-Ogura model 75006PR features a lightweight single body construction allowing the operator to punch holes in steel in as little as 4 seconds.
---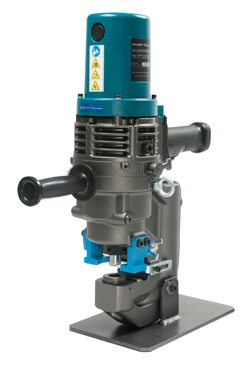 The new "Power Retractable" Punch system provides the user the option to power reverse the punch back out of hole if needed. This improves productivity in harder, more elastic materials which tend to grip the punch (not allowing it to auto return to the home position) after the hole is produced.
The 75006PR hole puncher uses only electrical power to operate the motor and the self-contained hydraulic system. No additional hydraulic pumps or hoses are needed. The 75006PR provides 26.9 tons of punching pressure to punch round holes up to 15/16" (23.8mm) in diameter and oblong holes up to 11/16" x 13/16" (18mm x 21mm). The maximum material thickness is 1/2" (12.7mm) The unit can punch holes in flat bar, H-steel, angle iron and channel. The punch unit weighs 62.9 lbs (28.5 kg).
The 75006PR electro-hydraulic hole punch uses the exclusive Hougen®-Ogura® punch & dies which are available in a wide variety of sizes. Accurately locating the hole position is easy with the punch jog down feature and the adjustable throat depth gauge. The punch unit is available in 120V & 230V power options and comes standard with a work stand for placement of the punch on a work table and a foot switch for hands free operation.