Hougen HMD904 Magnetic Drill
Hougen Manufacturing released a completely redesigned HMD904 portable magnetic drill.
---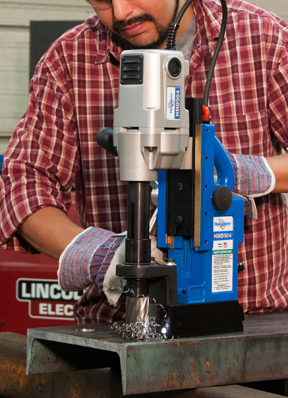 This new upgraded model includes major improvements and features. The HMD904 with its powerful performance, lightweight size, small footprint and hole capacity is the most popular model in the line of Hougen magnetic drills.
A number of new features and innovations not seen on previous models of the HMD904 have been incorporated into this redesign. The newest innovation is the mag drill pilot light. The LED light is built into the base of the magnet and allows the operator to more efficiently and quickly line up the pilot with the holes center location in low light or no light conditions. Powering the drill is a proprietary Hougen motor with a new design to the aluminum casing to improve durability. The addition of a two stage magnet increases magnetic holding power by 30% when the drill motor is turned on. This saves energy and increases magnet life. A new arbor system utilizes a 5/8" slot drive for more rigidity, hole accuracy and quicker use of accessories such as drill chucks and tapping attachments.
The HMD904 has many additional features that make the drill easier to use; a more robust housing design with an ergonomic carrying handle, a spot to hold the hex wrench, reversible feed handles and a d-ring on the back of the magnet for quickly attaching the safety chain. The drill also includes positive slug ejection and a carrying case. For additional productivity, a swivel base magnet and coolant bottle version of the drill is also available.