Posted November 9, 2021
Hougen HMD900 portable magnetic drill
Hougen Manufacturing Inc. has released the new HMD900 portable magnetic drill.
---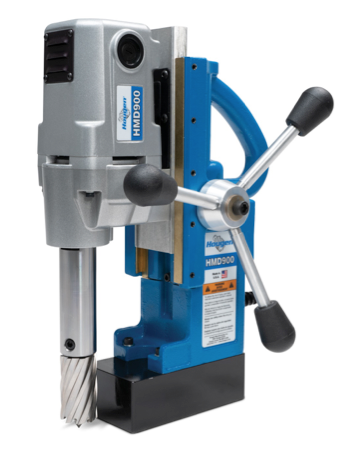 This model is a powerful lightweight no frills mag drill designed for general fabrication. While incorporating operator safety functions and many standard Hougen features, the HMD900 is an affordable cost point tool for the low volume user.
The HMD900 includes a hidden motor cord design that incorporates the cord into the drills motor casing and housing. This increases the safety of the drill and reduces maintenance to a minimum.
Powering the drill is a proprietary Hougen motor with an aluminum casing to improve durability. The arbor system utilizes a 5/8" slot drive for more rigidity, hole accuracy, spring slug ejection and quicker use of accessories such as drill chucks and countersinks.
The HMD900 also boasts a more robust housing design with an ergonomic carrying handle and a spot to hold the hex wrench. A safety switch built into the base of the magnet, shuts the motor off if the magnet was to disengage from the work surface.
The HMD900 magnetic drill weighs just 27.7 lbs (12.6 kg), measures 15-1/8"H x 6-3/4"W x 11-3/S"L (384mm x 171mm x 289mm) and provides drilling capacities from 7 /16" up to 1-1/2" (12 - 38mm) diameter and 2" (50mm) depth of cut.
The drill has an electrical rating of 9A and a 450 RPM motor. The HMD900 is made in the USA.