Posted June 6, 2018
Hunter Industrial Fan line introduced
Hunter Industrial Fans, the industrial division of Hunter Fan Company, launched an industrial fan line engineered to deliver year-round HVAC cost savings and the easiest installation features on the market to date.
---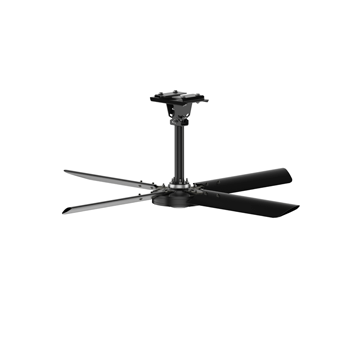 Dubbed the "XP," this new HVLS solution delivers a highly efficient performance with a featherweight design and includes a uniquely streamlined plug-n-play, pre-assembled installation process that does not require any guy-wires.
"Purposeful innovation is at the heart of the Hunter brand," said John Alexander, CEO of Hunter Fan Company. "For more than 130 years, we've taken our design and development cues directly from our customers and their needs––and this latest product evolution continues that tradition. Our XP industrial line streamlines purchasing experiences by making it easier to buy off the shelf and install for the end user."
Available in five sizes—including 7, 8, 10, 12 and 14-foot diameter models—the XP product line is engineered with a direct drive motor for a quiet, virtually maintenance-free operation. The XP's pre-assembled components and plug-n-play wiring provide a quick and easy install. Accompanied by a 2-foot rigid mount, the XP can also be powered by readily available 110v input and boasts variable speed control for fully adjustable airflow.
"The XP was designed for ultimate ease of use," said Jeff Chastain, senior vice president and general manager of Hunter Commercial & Industrial Fans. "We ultimately wanted to expand our core offerings and provide industrial and commercial customers with an HVLS solution that works in a broad range of spaces. The XP's plug-n-play technology provides the easiest installation experience of any HVLS fan on the market to date."