Posted November 19, 2018
Hyde FC Revolution Seafood Processing Blades
Hyde Industrial Blade Solutions (IBS), a division of The Hyde Group, introduced seafood processing blades offering enhanced corrosion resistance, better cuts and less potential for waste.
---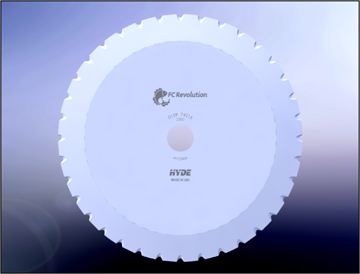 Hyde FC Revolution Seafood Processing Blades are designed for both fresh and salt water processing in land-based plants and ocean-bound factory ships.
Engineered with high-grade stainless steel, Hyde achieves a smooth Ra microfinish on its seafood blades to reduce friction during the cut and the tendency of fish and waste products to stick to the blade. Cleaner blades last longer and cut more efficiently producing more yield.
These blades are also tensioned to run "true" to ensure better quality cuts resulting in less waste. Hyde FC Revolution Seafood Processing Blades come sharper out of the package eliminating the need to hone the blades prior to initial use and can be put immediately into production.
Hyde FC Revolution Seafood Processing Blades stay sharper longer reducing the need for frequent sharpening. Fewer work stoppages for blade sharpening or changeovers means less downtime on production lines and increased productivity. When sharpened, these blades take a fresh edge more quickly, with less material removal, allowing them to be sharpened more times than competitive blades, saving money on new blade purchases.
These blades come in an extensive array of sizes ranging from 3.54" (90 mm) to 13.78" (350 mm) with a wide variety of notched and non-notched types available and are designed for use on the most commonly used processing machines in the industry.