Ideal Industries 490 Series Multimeter
Ideal Industries offers the 490 Series Multimeter, with problem-solving technology and a hardened all-weather housing for harsh environments.
---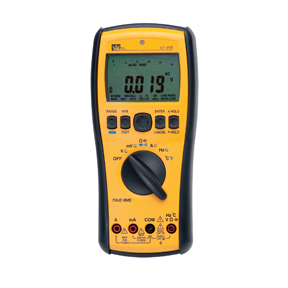 With the 490 Series multimeter, electricians can diagnose problems in power distribution systems, electro-mechanical equipment, and motor drives on the plant floor, as well as perform a range of preventive maintenance tasks for maximum productivity and minimum downtime.
Building on the success of its PlatinumPro industrial multimeters, the IDEAL 490 is feature-rich with True RMS readings for error-free testing, Auto AC/DC voltage (1000V) and current mode with frequency indication, auto selection for resistance / continuity / diode / capacitance, plus data acquisition and logging of up to 20,000 records when used in unattended monitoring of signals over time. High Frequency Rejection (HFR) mode provides accurate voltage/frequency readings on non-sinusoidal wave forms, such as adjustable speed motor drives.
Multimeters can be complex and require technical set-up knowledge. However, the 490 Series is extremely user-friendly with its auto-sensing functions, easy-to-read backlit LCD and simple toggle operation. Everything that is needed is in the package, including software, USB cable, test leads with alligator clips, K-Type thermocouple, and a sturdy protective carrying case. When not in use the 490 Series will power itself off to conserve battery life. The 490 Series multimeter is built tough to keep performing in the worst industrial settings. It is safety rated for CAT III 1000 V and CAT IV 600V. Two models are immediately available: the entry-level 61-497 multimeter and the 61-498 multimeter with 100,000 count display and higher accuracies. Both are backed by a 2-year warranty.