Ideal Merlin PowerBlade
The IDEAL Merlin PowerBlade is designed for utility linemen to cut high-capacity, high-strength ACSR (Aluminum Conductor Steel Reinforced) cable commonly used in overhead power lines.
---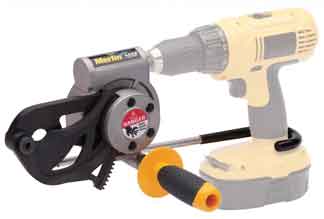 It fits onto the standard corded or cordless drills that electricians carry with them everyday, so there is no need to waste time with special battery packs or chargers. Once installed, the Merlin Power Blade is held securely in place with an adjustable torque arm, while the user grips an ergonomic, textured Santoprene handle for added stability. Next, the user simply pulls the drill's trigger to cut through thick ACSR cables in 20 seconds or less. This compares very favorably with manual cutters that typically require 2-3 minutes to cut through ACSR. To assure little or no cable distortion, the Merlin PowerBlade blade is uniquely contoured to provide clean, rounded cutting of ACSR cable.
"Merlin is a natural extension of our highly successful PowerBlade concept. It brings all the advantages of PowerBlade to utility linemen who, until now, have had to tolerate the drudgery of manually cutting thick ACSR," said Bruce Hartranft, Senior Product Manager for IDEAL. "PowerBlade eliminates the poor quality, muscle strain and high labor costs associated with manual ACSR cutters with a safer, faster and more accurate cutting alternative that reduces expenses for utilities."
IDEAL employed a new proprietary heat treatment method that achieves extreme hardening of the blades, a benefit that translates into hundreds, if not thousands, of cuts before requiring replacement. Heavy-duty gears are protected within a reinforced, all-metal housing to maintain peak performance. Nothing has been left to chance, including the non-slip user grip that folds for easier storage or to fit into tight spaces.