Ideal Industries Big Kahuna Power Blade
Ideal Industries introduced the newest member of its PowerBlade line of professional-grade cable cutters -- the Big Kahuna Power Blade.
---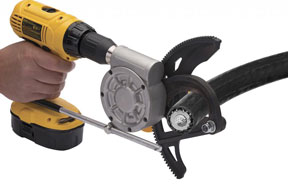 Featuring a 3.5-inch jaw opening, the Big Kahuna Power Blade makes easy work of cutting large diameter copper and aluminum electrical cables, resulting in clean, installation-ready cuts on high-voltage cables up to 1250 MCM in less than 20seconds. These large cables are commonly deployed in industrial plants, by electrical utilities for primary or secondary transmission, and in underground service of 600V or more.
Like the original PowerBlade introduced several years ago, the Big Kahuna Power Blade is intended to replace time-consuming, awkward manual cutters that are prone to distort or "football" large cable geometry, creating poor connections and leaving behind tired hands, arms and shoulders. Instead of manpower, the innovative Big Kahuna Power Blade attaches onto any 12 volt or higher drill so that cutting is as effortless as pulling the drill's trigger. Its contoured blade design minimizes cable distortion, while the adjustable torque arm holds the drill perfectly in place. Amazingly, only three major parts of the Big Kahuna Power Blade are moving during the entire cutting process so that wear and maintenance requirements are greatly reduced.