Posted June 20, 2018
Industrial Pro welding wholesale catalog
Industrial Pro introduced its new welding-focused catalog featuring its expanded product portfolio geared to everyday distributor requirements.
---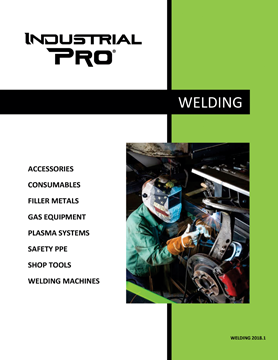 Designed and engineered to our specifications, our products are competitive with national private label programs and provide the consistency you need to compete against national brands.
Industrial Pro is all about the independent distributor, after all independent is what we are too! Our new IP catalog is focused on the welding needs and solutions that distributors sell every day without the mark-ups associated with the big brands. Steve Anderson, 3rd generation CEO & President said, "Industrial Pro encompasses my vision of bringing a welding-focused solution to the industrial welding distribution market with emphasis on providing independent distributors a clear alternative in this underserved channel. Everyday distributors are joining the Industrial Pro family of distributors and realizing better service, more profits and revenues that they may not have been able to close in the past. Our solutions are focused on the metalworking segment, but our capabilities are broad bringing 86-years of independent-owned business experience to our distributors when they choose Industrial Pro."
"The Industrial Pro brand is sold exclusively to the independent welding and industrial distribution segment. Industrial Pro delivers industrial-grade quality, performance and a value-based choice to the independent without having to do their own global sourcing, brand development and risk-taking," said Dave Eckert, vice president industrial markets. "Our distributor partners are looking for innovative solutions that bring demonstrable value and performance to their customers. The expanded, industrial focused welding product offering has our distributors taking notice that Industrial Pro and its partners are bringing something different to the wholesale distribution marketplace. Our new catalog delivers on our promise."
Request your copy of this catalog today at industrialpro@forneyind.com.