Posted August 17, 2022
Ingersoll Rand QX Series torque multiplier
Ingersoll Rand is expanding its QX Series line with the introduction of the Ingersoll Rand QX Series 40V Cordless Torque Multiplier.
---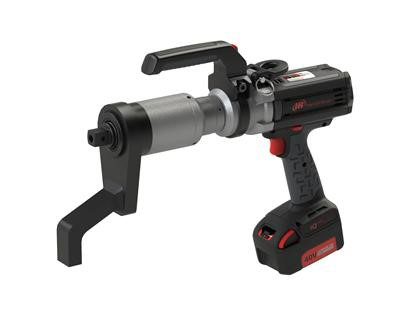 The new multiplier pairs up to 2,950 foot-pounds (4,000 Newton-meters (Nm)) of torque with the technology of a transducerized tool. Now technicians working on infrastructure, power generation, industrial, and petrochemical jobs can have the best of both, power and precision, for the first time.
"The Ingersoll Rand 40V Cordless Torque Multiplier will be an efficiency game-changer for industrial applications," says David Dobersztyn, Senior Global Product Manager, Ingersoll Rand. "Critical bolting work that once required a machinist and manual data recording can now be done faster and more efficiently by one technician."
Power and Speed Meet Precision and Accuracy
Like all QX Series tools, the QX Series 40V Cordless Torque Multiplier has a patented closed-loop transducer that provides precision control and records the torque, speed and angle for each bolt or fastener.
Operators can use the free Ingersoll Rand INSIGHT Connect app to program up to 256 fastening strategies and access data. The tool's onboard log holds information, including timestamps, on up to 1,200 run downs. It can also be configured with Bluetooth® connectivity to wirelessly transfer data to the INSIGHTqcx™ Controller or a mobile device through the app. That data can be analyzed, shared, or archived for later verification.
The tool is powered by a 40-volt battery to deliver fast high-gang-count fastening. Running at up to 83 revolutions per minute (RPM), it's twice as fast as the 20-volt multiplier. With a brushless motor and premium gearbox, the tool meets the quality and reliability standards customers expect from Ingersoll Rand. An advanced cooling fan dissipates heat so the tool can run back-to-back cycles without overheating, extending the runtime of the tool. It delivers more speed, requires less manual recording and provides verifiable results, which equals more bolts in less time.
Compact Design, Ergonomic Features Provide Access and Comfort
The QX Series 40V Cordless Torque Multiplier fits the part in rough industrial environments with a drop-resistant, steel-reinforced motor housing that's made from super tough composite polymer and a slip-resistant soft touch grip.
The tool was designed to fit in tight spaces opening a myriad of applications for its use. Its innovative dual-axis ergonomic handle, the first of its kind, rotates 360-degrees with the press of a button so operators can tighten bolts in a circular rotation with a single tool.