Irwin impact tool accessories
Irwin Tools is introducing the second phase of its Impact Performance Series portfolio of impact driver accessories.
---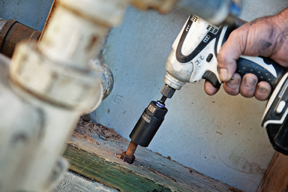 Irwin's impact accessories are engineered specifically for use in impact tools. Featuring Double-Ended Power Bits, a Tapcon Installation System, Bolt-Grip and Screw-Grip Extractors, Irwin's line of tools are enabling tradesmen to do more with their impact drivers than ever before.
"The second phase of the Impact Performance Series expands our initial offering which was originally focused on the fastener drive category only. Irwin's expansion into impact designed double-ended power bits, drilling, extracting, and adapters and extensions categories provides the right impact accessory for nearly all impact driver applications. By eliminating the need for multiple tools and transition time, our accessories allow tradesmen to work more efficiently and productively on their jobs," said Jon Schlosser, director of marketing.
With nearly 80 percent of users fastening with their impact drivers, Irwin's Double-Ended Power Bits offer an improved driving functionality and the convenience of having two tips in one bit, eliminating the time spent searching for a replacement bit between applications. These bits feature Irwin's exclusive DoubleLok Technology, which securely locks both ends of the bit into impact drivers and quick-change chucks. The bits' precision tip geometry fits fasteners more precisely, reducing stripping and cam-out and providing longer bit life. Irwin's single and double-ended power bits are also compatible with the new Magnetic Screw-Hold Attachment, designed exclusively for the Irwin Impact line. With a rare earth magnet that is four times more powerful than a standard magnet, the low profile collar connects securely to hold fasteners so there is less slipping and wobbling.
This launch also introduces Irwin's Tapcon Installation System. Compatible with standard drill/drivers, but especially designed for use with impact drivers, this system combines a bit and drill/drive sleeve to make Tapcon installation faster and easier. The one-piece construction bit features a built-in hex collar stop for drilling the perfect hole depth for both
The Irwin Bolt-Grip Impact Performance Series Extractors feature patented reverse spiral flutes, engineered to provide maximum gripping power to remove broken, damaged, or rusted nuts, bolts, and screws. Manufactured with high carbon steel for improved durability, the extractors have a universal lobular design that fits all types of fasteners.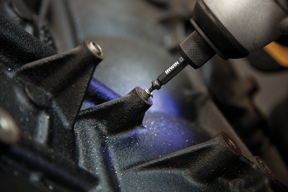 The new Screw-Grip Impact Performance Series Extractors with DoubleLok Technology, which enables both ends of the bit to lock into impact drivers and quick-change chucks, are designed to easily remove damaged screws and small bolts with a single bit in three steps: drill, flip bit, and extract. The drill end is designed to start fast with minimal walking and the tip of the extractor end is serrated for increased torque to remove even the toughest screws and smaller bolts. Made from M2 high-speed steel, these extractors are extra-hardened for longer life with impact drivers.
The launch also includes a redesign of the phase one fastener drive program. All Impact Performance Series Single-Ended Power Bits and Insert Bits now feature precision tip geometry which fits fasteners more precisely providing longer bit life and reduced stripping and cam-out.