Posted March 29, 2017
John Guest USA ProLock fittings
Designed for use in the water softener and domestic plumbing markets, the new ProLock Fitting Range from John Guest is available in 3/8" to 1" CTS sizes.
---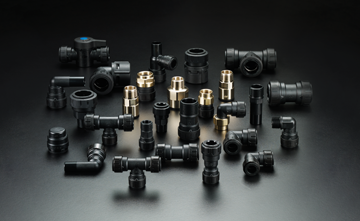 Manufactured from high quality engineered plastic with EPDM O-Rings, ProLock fittings can be used with any combination of copper, PEX, or CPVC pipe without the need for any tools. The push-to-connect fittings use Twist-to-Lock technology which provides users with extra security when fittings are twisted into the locked position. Proven to reduce installation times by over 40%, ProLock products are also code-approved and approved for behind-the-wall use.
Available for immediate sale, the new JG ProLock Fitting Range carries a 25 year warranty against defect in materials or manufacturing.