Posted June 7, 2017
KNAACK Tool Kage Jobsite Cabinets
KNAACK introduced Tool Kage, a new line of jobsite storage cabinets clad in 16-gauge diamond-punched steel.
---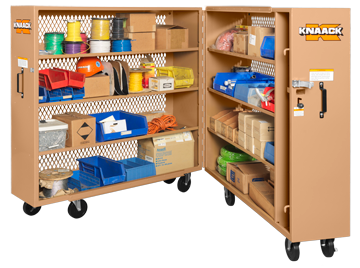 Based on KNAACK's JOBMASTER, the Tool Kage models provide clear visibility of their contents without compromising security. The see through security cabinets can stay locked while allowing viewable access to valuable tools, accessories and more.
"Maximum security against theft and efficiency on the jobsite are both critical," said Sang Oh, senior product manager at KNAACK. "Our new line of innovative Tool Kage storage cabinets allow workers to quickly locate and grab the tools and supplies they need without searching the entire storage unit."
The Tool Kage line includes three products, the 139-MT, 129-MT and 100-MT, each outfitted with the patented KNAACK Watchman IV security lock, an electrical power pass, electrical pass-through in each shelf and diamond-punched 16-gauge steel panels. Each cabinet is built with a fully arc-welded steel body and powder coated for superior durability and resistance to corrosion and electrical currents. The new cabinets also offer optional 6" wheel casters and door shelves.
The new models and specific product features include:
Model 139-MT Tool Kage Cabinet:

Volume: 59.4 cubic feet
Dimensions: 60" length x 30" depth x 60" height
Power cord access to every shelf
Model 129-MT Tool Kage Cabinet:

Volume: 48 cubic feet
Dimensions: 72" length x 24" depth x 51" height
Power cord access to top shelf
Model 100-MT Tool Kage Cabinet:

Volume: 60.9 cubic feet
Dimensions: 60" length x 30" depth x 65" height
Includes 6" wheel casters for mobility and easier opening/closing
Power cord access to shelves on right side