Posted April 21, 2021
Kapro Tools 350 Pipe Level Set
Kapro Tools introduced its innovative 350 Pipe Level Set.
---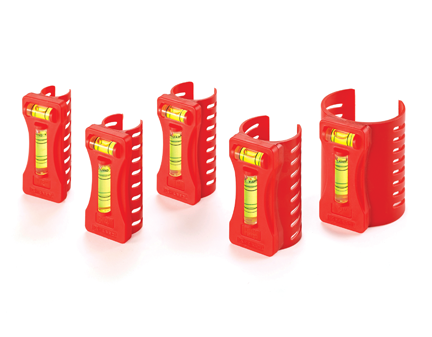 The Kapro 350 Pipe Level Set consists of round, clamping-style pipe levels that clip directly onto the pipe, allowing the user to continue the job hands-free. The 350 is available as a set of five levels that fit all standard PVC, copper, conduit and all other non-metallic and metallic pipes from 1/2" up to 2".
The levels are made from a tough and flexible ABS extrusion, with patented vertical and horizontal vials. The 350 levels come with an extra line on each side of the horizontal vial for setting and measuring slopes up to 2 percent.
"We designed the 350 Pipe Levels so that tradespeople can multitask and use other tools while being able to hold a pipe with just one hand," said Gal Wollach, vice president of business development at Kapro Tools. "The result is a very simple, yet handy tool that improves productivity and accuracy in the field."