Klein Chicago Grip Coated Guy Wire
Klein Tools introduced a wire grip designed specifically for use with both coated and galvanized guy wire.
---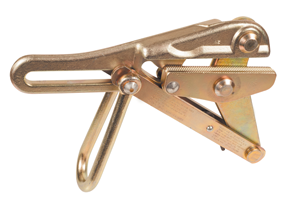 The Chicago Grip - Coated Guy Wire (1684-5C) features a unique sawtooth jaw profile that won't slip when used on coated or galvanized guy strand. The longer 5" jaw also increases the surface area in contact with the cable which minimizes cable damage. The Chicago® Grip - Coated Guy Wire is meant for use with cable sizes 0.16" (4.06 mm) to 0.55" (13.97 mm).
"Over time, the coating or galvanization can cause build-up on a typical grip jaw causing it to slip," says product manager Jocelyn Aguero. "The sawtooth jaw profile on Klein's new coated guy wire grip prevents that build-up from happening thus reducing the risk of slippage."