KNIPEX pliers wrench
The new KNIPEX Pliers Wrench Mini pairs the versatility of a wrench with the functionality of a pair of pliers together in one sleek 5-inch tool.
---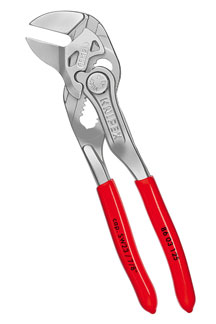 Gripping, holding, pressing and bending are all made easy with a product that fits in a pocket. The all-in-one Pliers Wrench Mini eliminates the need for SAE or metric wrenches.
The new Pliers Wrench is available in 5-inch length, with a full-surface gripping capacity of up to 7/8 inches that grips 10-times greater than a human hand can grip. Its smooth, parallel jaws will not round off bolts or nuts and will not damage the workpiece. The Pliers Wrench has a push-button adjustment and unique ratcheting action, so the tool stays in place for fast turns on repetitive tasks. The tool is forged and oil-hardened, constructed from German, chrome-vanadium electric steel. Additional sizes are available up to 16 inches.
The tool's small size and powerful utility make it the right choice for plant maintenance, automotive, hydraulic piping, utility companies, food and bottling industries and countless other industrial and residential applications. More specifically, the Pliers Wrench Mini works great with pipe constructions, pneumatic-sensitive union joints and precision mechanics with ultra-fine union joints.
"Don't let its small size fool you, because this little tool can perform with surprisingly great strength," said Alan W. Sipe, president and general manager, KNIPEX Tools. "As a company that keeps our customers' hands in mind, the Pliers Wrench Mini was designed to get the job done without lugging around extra, clunky tools, this one fits perfectly in your pocket."