Posted June 26, 2019
Knipex Wire Rope Cutter
Knipex Tools introduced its Wire Rope Cutter for cutting high-strength wire ropes up to 5/32 inches and cable up to 3/16 inches.
---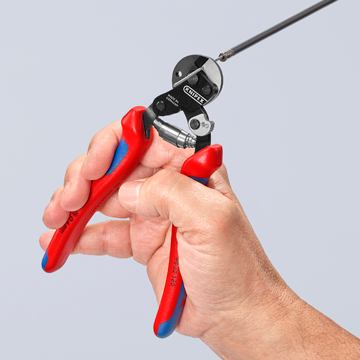 Now in a compact 6 1/4-inch design, the Wire Rope Cutter cuts with the same power and precision as many larger wire rope cutters on the market.
The Wire Rope Cutter features precision ground cutting edges and shear-type action for cutting cable and wire rope cleanly and evenly without the wire ends splaying or fanning out. The Wire Rope Cutter has a double-bearing, box joint design for greater stability and performance.
The Wire Rope Cutter is engineered with ball bearing steel for longer service life. A high-transmission joint design makes cutting up to 30 percent easier compared to similar cutters. Other features include a thumb lock to secure the tool when not in use and an opening spring for easier use during repetitive cutting.
"With the new Wire Rope Cutter's compact design and sharp cutting edges, customers can take on tough wire ropes and cables without sacrificing power or comfort," said Peter Grable, product manager, Knipex Tools. "At just 6 1/4 inches in length, the Wire Rope Cutter delivers more precise and powerful cutting than larger wire rope cutters and works in tight spaces other cutters just can't reach."