Posted October 25, 2018
KNIPEX Tools High Leverage Angled Flush Cutter
KNIPEX Tools introduced its eight-inch High Leverage Angled Flush Cutter. The new flush cutter is made for easy cutting of plastic components and soft metals.
---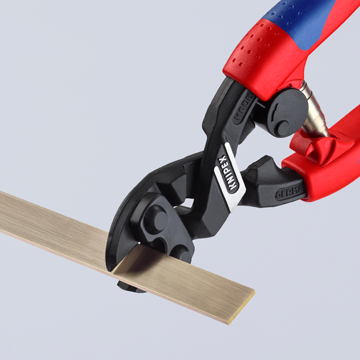 The special joint design means the Angled Flush Cutter requires less effort for cutting, because the cutting edge is closer to the rivet. The bevel-free precision cutting edge provides a flush cut.
Other features for the Angled Flush Cutter include a 20-degree angled head that provides more space for hands, gripping surface below the joint for gripping and pulling, precision cutting edges and an opening spring and lock integrated into the handle. The flush cutter is made from German chrome vanadium electric steel, forged and oil hardened.
"The High Leverage Angled Flush Cutter cleanly cuts a number of plastic and soft metal applications, including plastic sprues and copper busbars," said Todd Shumate, president, KNIPEX Tools. "Between the angled head and precision cutting edges, this flush cutter was designed with the user in mind and is equipped with numerous features to increase productivity while decreasing effort."