Larson Electronics 6 watt high output LED light emitter
The LED6W-GNM-SW goose-neck mounted LED work light offers high light output from a compact form factor and is designed to provide operators with the most flexible lighting solution available.
---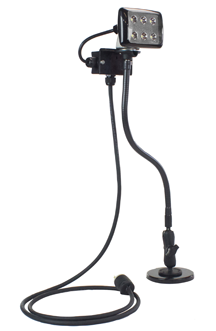 The light assembly consists of six 1 watt LEDs paired with high clarity optics to produce a light output comparable to a 50 watt halogen light without the high heat, fragile construction, and high energy costs. The LED lamp assembly is protected by a shatterproof polycarbonate lens that is scratch resistant and provides protection against impacts and the elements. The mounting assembly for this light consists of a 200 lb grip magnetic base, a flexible goose-neck arm, and two ball joints that provide 360° of rotation and 180° of tilt, terminated with a six foot cord with a straight blade plug. This work light is designed to operate with voltages ranging from 110 volts to 240 volts AC, providing versatile power connection options and the ability to run the unit from common wall outlets without the need of a transformer.