Larson Electronics 250 watt temporary construction LED string lights
Industrial lighting specialist Larson Electronics reveals a new temporary construction LED string light set featuring ten 25 watt LED lamps that provide higher quality light than 150 watt PAR38 lamps while creating less heat and using less power.
---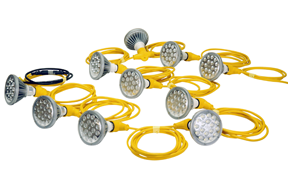 The WAL-SL-10-PAR38-LED-12.3-TLP work area string lights from Larson Electronics consists of ten industrial grade LED lamps with 10 feet of 12/3 SJTW cable between each lamp. This temporary LED string light system is connected to power via an integrated 3' cable terminated with an optional twist lock plug. Each socket is equipped with a high output LED lamp which delivers more light output than a 150 watt PAR38 lamp. Each individual socket is also equipped with a hook eyelet making them versatile for a number of industrial applications requiring reliable and bright illumination. This LED light set is a far more energy efficient solution and provides 25,000 lumens of light over 50,000 hours, compared to the 2,500 hours offered by standard 150 watt PAR38 halogen lamps. The LED PAR38 lamps have a lower energy consumption, produce more light output, and are more durable to abuse and harsh environments.
These temporary construction LED string lights consist of 100' of 12/3 SJTW cable, with 10' between each lamp and terminated in a 3' whip on the front and back ends for a total of 106' of durable, weather proof string lighting. Utilizing energy efficient LED lamps, operators are able to provide more light coverage from the same amp draw, or lower the amp draw using the same amount of LED lamps as halogen. Each LED trouble light has an effective range that approximately covers a 15' to 20' radius with a 60° flood beam. These lights are configured to operate with 120V AC-277V AC or 12-24V DC without any modifications. These LED lamps are suitable for wet areas, extremely long lived, resistant to damage from impacts and vibrations, and consume far less energy than standard lamps.
"The LED bulbs in these hand lamps have no filament, making them resistant to damage from impacts and vibration," said Rob Bresnahan with Larsonelectronics.com. "Light emitting diode technology provides better quality illumination and is more reliable than standard drop lights that produce high heat with fragile construction."