Posted November 6, 2017
Lenox HRX Bi-Metal Band Saw Blades
Engineered to cut structural steel, tubing and bundles, large metal beams and heavy walled tubes, Lenox introduced the HRX Bi-Metal Band Saw Blade.
---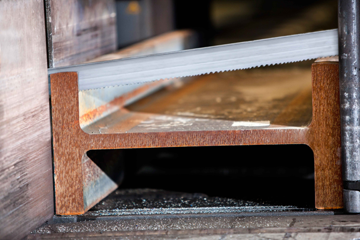 Engineered in response to increasing customer demand for cutting large structural components for commercial construction and infrastructure projects, the new Lenox HRX Bi-Metal Band Saw Blade features:
• Long blade life. Lenox Power Blast Technology strengthens the blade to minimize breaks, and durable teeth for cutting large structural beams.
• Straight cuts through wide cross-sections. The Lenox HRX Bi-Metal Band Saw Blade is designed to improve chip flow and reduce blade deflection for cutting efficiency. The blade's tooth geometry was designed to minimize edge chipping and crooked cuts.
• Wide kerf limits pinching in larger beams. The HRX bi-metal band saw blade utilizes alternating set teeth, which widen the cutting channel to limit blade pinching.
"Our focus on blade durability and performance has allowed us to enhance our product offering in the bi-metal band saw blade market – allowing our customers cutting performance in these very demanding applications," said Patrick Cowhard, senior product manager for Lenox.
As an entirely new product in the Lenox line, the new Lenox HRX Bi-Metal Band Saw Blade leverages the success of the Lenox Rx+ Bi-Metal Band Saw Blade, and is designed to deliver clean cuts, efficiency and durability in large structural cutting applications. High speed steel tooth tips combined with flexible alloy steel backing material result in a band saw blade that is a cost-effective choice in these sawing applications. The Lenox HRX Bi-Metal Band Saw Blade come in widths from 1-1/4 inches (34mm) to 2-5/8 inches (67mm), with extra-heavy set options available to avoid blade pinching large material.