Spirit II Series plasma system
The new Spirit II Series plasma system from Burny Kaliburn, a Lincoln Electric company, features FineLine high definition plasma cutting technology.
---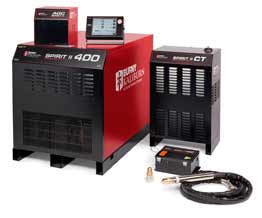 The system delivers excellent cut quality over the entire consumable life at lower costs by achieving the least part taper over the life of an electrode. When paired with Burny Kaliburn's proprietary UltraSharp Hole technology, the system also delivers exceptional hole quality.
This family of Spirit II plasma cutting and marking systems features three amperage options: The 150-amp Spirit II 150 has the ability to pierce most metals up to 1 inch (25 millimeters) thick, with a maximum capacity of 1.5 inches (38 millimeters). The 275-amp Spirit II 275 can pierce most metals up to 1.25 inches (32 millimeters) thick and has a maximum capacity of 2.5 inches (65 millimeters). The 400-amp Spirit II 400 is able to pierce most metals up to 2 inches (50 millimeters) thick, with a maximum capacity of 3 inches (75 millimeters).
All Spirit II models deliver precise, square, dross-free cuts with 2° or less cut-edge bevel, using up to 78 percent less plasma gas than the competition. Operating costs are also controlled by using the same consumables to cut and mark. All provide these additional features and benefits:
Impulse Start Technology to eliminate high frequency starting.
Fully automated or manual process control.
Plasma controller delivers automatic controlled process variables through user-friendly, touch-screen display HMI.
Automatic setting of process parameters to provide ease of operation.
Advanced torch technology for a stable plasma column and optimized plasma gas flow.
Self-diagnostics that tracks pierces, pierce errors and types of errors for the last six electrodes.
Hafnium Optimizing Technology (HƒOT) that significantly increases electrode life.
Extended shield cap life through the use of very low transferred arc current sensing for higher starting height.
Optimized nozzle design for dominant convective heat transfer that results in longer nozzle life.
Separate gas control for plasma cutting and marking through a CNC output, serial link or manual selection.