Lincoln Electric Viking PAPR welding helmet
Lincoln Electric introduces the VIKING PAPR 3350 Welding Helmet.
---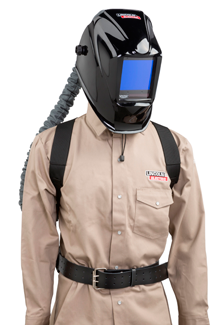 The PAPR (Powered Air Purifying Respirator) is a complete powered system that draws air from the environment through a HEPA filter located on the belt and delivers filtered air in the breathing zone within a premium-level VIKING auto-darkening welding helmet.
This model, which offers dual airflow speed, is powered by a battery that can last a full eight-hour shift without interruption. A patent-pending adjustable baffling system inside the helmet directs airflow away from the eyes to avoid dryness. The lightweight design of the helmet and belt pack allow for unrestricted movement. The VIKING PAPR is equipped with a 3350 Series Welding Helmet that has a perfect 1/1/1/1 optical clarity rating (EN379).