Loctite LED-compatible adhesives
Henkel has expanded its comprehensive offering of LED-compatible Loctite adhesives, sealants, potting materials and threadlockers.
---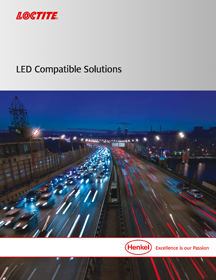 The LED-compatible line now includes 38 products that improve the reliability and help lower the manufacturing costs of these lighting devices. While the presence of incompatible adhesives can impair the performance of LEDs, use of LED-compatible Loctite products helps to ensure long life, even for components exposed to extreme temperatures, dust/dirt, vibration and underwater submersion.
The company offers bonding and sealing products that prevent moisture, dust, dirt and contaminants from entering the lamp head and the lens; potting products that encapsulate electrical components and fill structural voids to strengthen and protect the assembly; general bonding adhesives that bond subcomponent assemblies and basic structural elements; and threadlockers that prevent threaded parts from loosening due to shock, vibration and thermal expansion.
Henkel LED-compatible products are engineered for use in roadway/parking lot, industrial/commercial, consumer/residential and architectural applications. The company also offers automated dispensing systems and fast-cure adhesives.