Centurion Spectrum Helmet
MPS Centurion, a unit of Mine & Process Service Inc., has introduced the Centurion Spectrum Helmet with Integral High Impact Goggles.
---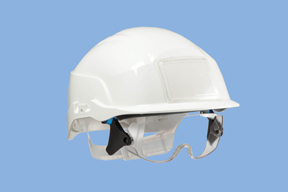 The Spectrum Helmet is manufactured of ABS and tested to ANSI Z89.1-2009, Type 1, Class E. It is also available with ventilation, as a Class C Helmet. The goggle system is fully adjustable, integral to the helmet, and it will fit over common eyeglasses. When not in use the goggles store inside the helmet, out of the way and protected. Head and Eye Protection in One Integrated Product! The standard Spectrum Helmet comes with a slip-ratchet headband, or a wheel ratchet headband is optional for quick and comfortable size adjustment.