Posted October 2, 2019
Madison OXYWAVE drain cleaning technology
Madison Chemical introduced its new OXYWAVE, a two-part drain cleaning program that cleans drains without scrubbing.
---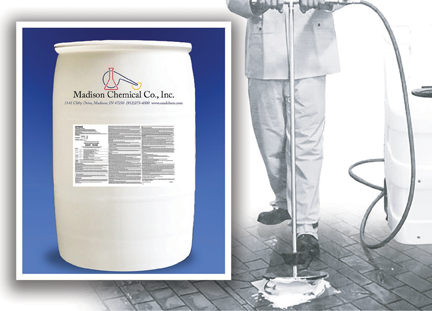 This newest drain cleaning technology is a quat-free solution to remove biofilm and sanitize drains, floors and walls. Utilizing the power of peracetic acid and Perafoam, OXYWAVE attacks and eliminates biofilms and destroys microorganisms. This robust, foaming-sanitizing solution provides 360°contact along the pipe walls for maximum sanitation. It will not damage concrete or stainless steel in diluted form. In addition to open and closed drains such as those found in food, beverage, dairy, pharma and healthcare facilities, E.P.A. registered (63838-1-110) OXYWAVE® is ideal for doorway foaming systems to prevent cross-contamination. It is ideal for use on previously cleaned, hard, non-porous food contact surfaces in dairies, wineries, breweries, food and beverage processing plants, and poultry egg facilities. It may also be used for hard, non-porous surface disinfection in hospitals, schools, industrial facilities, office buildings, veterinary clinics and more.
This very fast acting sanitizer/disinfectant kills bacteria, mold, fungus and yeast. It is tolerant of water hardness, can be used in hot or cold water, and is less affected by organic soil load than either chlorine or quaternary sanitizers.
Prior to sanitizing food contact surfaces, remove gross food particles, then wash with a detergent solution, followed by a potable water rinse. Sanitize with a concentration of 1.0-6.1 oz. OXYWAVE diluted in 6 gallons of water (0.13 – 0.79% v/v concentration or 82-500 ppm active peracetic acid). At this dilution, OXYWAVE is effective against Staphylococcus aureus, Escherichia coli, Salmonella enterica and Listeria monocyotogenes. Use immersion, coarse spray or circulation techniques as appropriate to the equipment. All surfaces should be exposed to the sanitizing solution for at least 60 seconds or more if specified by governing code. Drain any excess solution. Do not rinse.
Exact dilutions and temperatures are dependent upon the specific nature of the application. Standard operating procedures may need to be developed for specific concentration and temperature. Madison Chemical representatives are available to assist.