Makita 10-inch Slide Compound Miter Saw
Makita introduced the new 10" Slide Compound Miter Saw (model LS1018).
---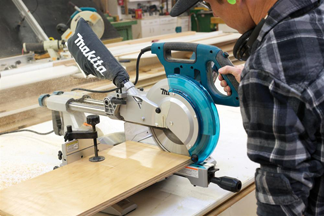 The LS1018 delivers large cutting capacity and accuracy right out of the box, and is ideal for applications ranging from fine woodworking and carpentry to general construction.
"Makita miter saws are leaders in their categories, and the LS1018 is the latest addition to this expanding line-up," said Joe Soto, Product Manager, Residential Construction. "This versatile saw provides smooth and accurate cutting in a full range of materials, from fine hardwoods to rough lumber, softwoods, case and base, crown molding, and other wood materials."
The LS1018 is powered by a direct drive 13 AMP motor with soft start. This is a key point of difference, as users will experience smoother start-ups and constant power with no belts to slip or replace. The electric brake provides added convenience.
The linear ball bearing system is engineered to deliver smooth, "dead-on" accurate cuts. At 90° the LS1018 has 12" crosscutting capacity, with 8-1/2" capacity at 45° (miter). The saw miters 0° to 47° left and 0 to 60° right, with positive stops at 0°, 15°, 22.5°, 31.6°, and 45° (left and right). The rear-handle bevel lock is easily accessible with adjustments 0° to 45° (left and right), and positive stops at 0° and 45° (left and right).