Posted November 26, 2019
Makita expands into Jan/San industry
Makita U.S.A. announced a new initiative to pursue the janitorial and sanitation industry.
---
The initiative focuses on Makita's expanding line of cordless cleaning products and is supported by a comprehensive new microsite.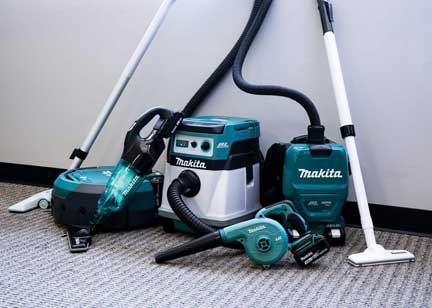 Makita provides cordless solutions for a variety of applications, all on one platform. Makita Cordless Cleaning Products are ideal for use in schools, hospitals, offices, retail, hotels, and more. With Makita's wide range of cordless products, users can increase cleaning productivity and performance.
"We offer a variety of cleaning equipment utilizing our innovative battery and brushless motor technology to increase product run time and extend the life of the motor," said Jenny Feng, senior product manager. "Features such as faster charge, lighter weight and quieter motor allow users to complete their cleaning tasks quicker, with less strain and less disruption to the surrounding area."
Makita LXT Cordless Backpack Vacuums, Compact Vacuums, Canister Vacuums, Industrial Robotic Vacuums, Blowers and Accessories utilize Makita's innovative 18V LXT Lithium-Ion Batteries and BL Brushless Motor technology. With one system, users can go from vacuuming to blowing quickly and easily for maximum productivity.