Posted August 14, 2018
Mayhew expands ProPneumatics product line
Mayhew Tools announced the addition of 11 new SKUs to its ProPneumatics product line.
---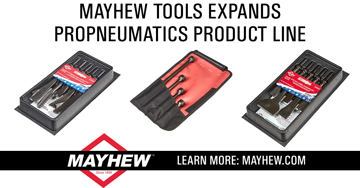 A few of the new products include pneumatic cut chisels and scrapers, four-piece hammer sets, exhaust pipe and mufflers, pin drift punch set, and flange nut/bolt driver set. All ProPneumatics tools and sets are 100 percent made in the USA and uniquely designed for a wide-array of automotive applications – including removing, cutting, trimming, and installing parts. Providing the specific tool to get the job done saves technicians time and improves productivity.
Each tool is made of shock-resistant steel that is fully hardened and tempered to provide long-lasting durability. Additionally, they each have a black oxide finish to prevent corrosion and feature a standard .401 Turn-Type Parker Shank for air or zip guns (with the exception of the 8MM Valve Guide Remover which has a .498 Turn-Type Parker Shank). Backed by a lifetime warranty, the new toolsets save technicians time by providing them with the tools they need when it comes to specific automotive applications.
Most of the toolsets are packaged in a self-contained, re-usable storage tray that fits most tool boxes and/or a carrying pouch making them convenient to access, store, and use.
The new ProPneumatics toolsets are as follows:
• Part No. 32023 5 Pc Cut Chisel and & Scraper Set
• Part No. 32024 4 Pc Specialty Hammer Set
• Part No. 32025 4 Pc Hammer Set
• Part No. 32028 5 Pc Exhaust Pipe & Muffler Set
• Part No. 32037 8MM Valve Guide Remover
• Part No. 32038 2 Pc Hinge Pin Driver Set
• Part No. 32039 5/8 Pin & Rod Driver
• Part No. 32040 5 Pc Pin Drift Punch Set
• Part No. 32080 4 Pc Flange Nut Bolt Driver Set
• Part No. 37326 4 Pc Heavy Duty Set
• Part No. 37329 4 Pc Long Mix Set