Posted October 13, 2020
Mayhew extends Hammerless Tools line
Mayhew Steel Products extends its Hammerless Tools product line with addition of a 2 piece Nail Starter and Nail Set, part number 89020.
---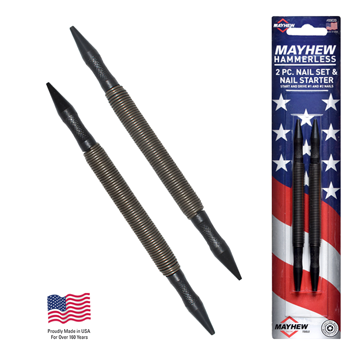 The 2PC set is designed for starting and setting nails. The Nail Sets countersink finish nails and brads into wood surfaces while the Nail Starters start and drive #2 finish nails and brads without the need for a hammer.
These unique spring powered tools have the potential to deliver up to 3500lbs of striking force with precision and accuracy. Made in the USA and backed by a lifetime warranty.
Tool Specifications:
• 1/32" Nail Starter and 1/32" Nail Set
• 2/32" Nail Starter and 2/32" Nail Set