Posted May 16, 2018
Mercer Industries Ceraflame 2 Premium Ceramic Resin Fibre Discs
Mercer Industries recently released its next generation of premium ceramic products with the introduction of Ceraflame 2 Resin Fibre Discs.
---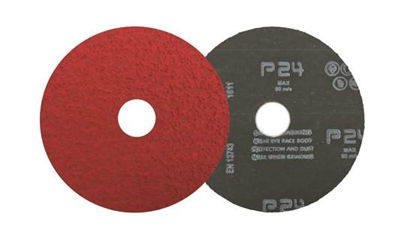 These discs feature a high concentration of ceramic grain lasting 40 percent longer than the original grain. Ceramic, a premium man-made grain that self-sharpens throughout its life, is the longest lasting, coolest cutting abrasive in the Mercer Industries line.
These new resin fibre discs are specially formulated to be used on high performance alloys, high carbon steel, stainless steel, non-ferrous metals and heat sensitive metals. They have a heavy-duty vulcanized fibre backing and a top size coating for cool, fast cutting. Available in grits from 24 to 80, they can be used to strip, grind, debur and polish. The discs are contaminant free to prevent stainless steel from rusting and will not stain or burn material.
Ceraflame 2 Premium Ceramic Resin Fibre Discs are available in 4 ½-inch x 7/8-inch hole with a max RPM of 13,300.
"We are excited to be able to offer Ceraflame 2 to the marketplace," said Gayla Brainerd, director of sales. "We work closely with our customers to develop products that fill requirements that are not necessarily being met by the current products on the market. This is a natural progression of the Ceraflame product line, providing our partners with a premium offering to help satisfy their customer's needs."